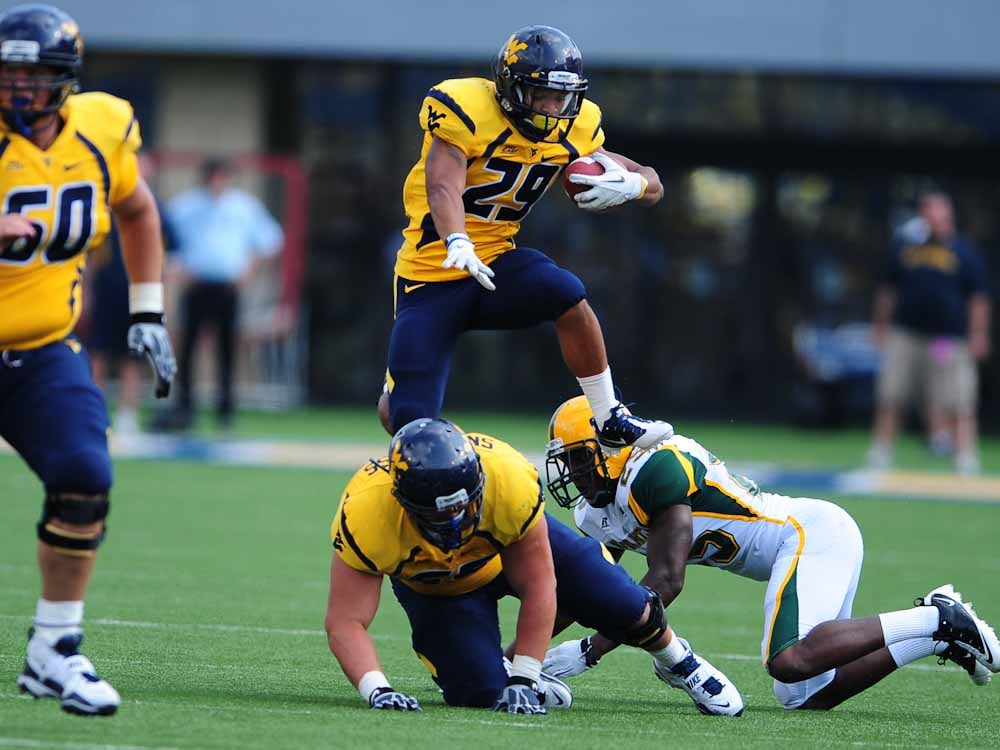 The Syracuse
Orangemen
would love for nothing more than to follow up last year's win over West Virginia with one final home "W" against the #15 ranked (
BCS
) Mountaineers. The 2010 edition ended with the Orange snapping an 8 game series losing streak to
WVU
, holding the home favorites to just 14 points for the game. However, this is a completely different style of football compared to last year, and don't think for one minute that Syracuse head coach, Doug
Marrone
, doesn't know that. Earlier in the week,
Marrone

stated
, "I think I'd be naive not to think we might have gone to
Morgantown
and caught them a little bit, but I don't think that's going to be the case this year."
Syracuse currently holds a 4-2 record (0-1 BE), but let's not forget the
blown call
during the '
Cuse
/Toledo game, which would have made the
Orangemen's
current record 3-3. The extra point should have been ruled "no good", which would have given the Rockets a 30-29 victory, instead of Syracuse's 33-30 OT win.
The Orange
currently rank
72
nd
in passing yards and 100
th
in rushing yards among all
FBS
schools. They are averaging 26.7
PPG
, but allowing opponents to score 27.3
PPG
against them. One can expect the last number to go up after tonight.
West Virginia
currently averages
40.8
PPG
, ranking 13
th
nationally in this category. With the Mountaineers' defense holding opponents to 21.5
PPG
, there should be no doubt who should (statistically) come out on top after 60 minutes of Big East football. The Mountaineers are ranked #3 nationally in passing yards, averaging 380.5 per game, and #91 for their 123 average rushing yards per game.
Quarterback
Geno Smith
has already thrown for 2,159 yards, with 16 touchdowns and 3 interceptions, and holds a 64% completion record for the year. Add
Stedman
Bailey into the mix, who has already hauled in 5
TDs
and 634 yards, then toss in a little Ivan McCartney with 3
TDs
and 455 yards, and this trio could easily amass 450+ yards in this
matchup
. One could also top of this platter of air-raid goodness with the likes of
Tavon
Austin and his 564 yards with 2
TDs
. We are mid-season, and these three receivers could well be on their way to 1,000 yard seasons. Do you remember the last time
WVU
had 3 receivers with over 1,000 yards?
Syracuse defensive coordinator Scott
Shafer
has been
practicing against the "air-raid" all week
, and says, "My arm's sore from throwing a lot of deep balls."
Shafer
knows how West Virginia likes to pass the ball, and hopes to have the Orange secondary ready to disrupt the big plays. Returning for Syracuse tonight are defensive end Chandler Jones, and strong safety Orlando Fisher, who is expected to make big plays of his own on special teams, as well.
Even after comparing West Virginia's offensive production and Syracuse's
111

th

place defense
, the Mountaineers are only favored by 14 points, according to
ScoreMobile
. However, this could be the last time the Mounties play in the Dome, as next year's game will be in
Morgantown
, and the following season seems to have the Orange bolting for the
ACC
. This could be a driving factor for both teams. The Orange would love to upset
WVU
in front of a home crowd for one last hurrah! However, West Virginia could easily take out some "conference realignment aggression" on Syracuse for jumping ship and leaving the Big East stranded.
On paper, this is an open and shut case. West Virginia should leave with yet another lopsided victory and over 500 total offensive yards. However, don't count out the
Orangemen
in this one, folks. As witnessed last year, anything can happen.
My prediction:
The
Ben Schwartzwalder trophy comes back to Morgantown-
WVU
31 Syracuse 23
I know it's a last minute post, but let us know what you think will happen tonight.