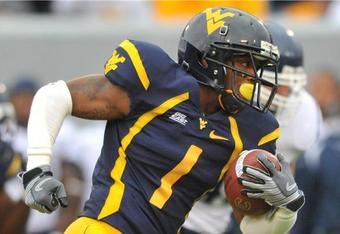 WVU WR Tavon Austin
*This preview was written by new WVUPros writer, Frank Rose*

Who would have thought going into last week's game against Bowling Green that the Mountaineers would run the ball for more yardage than passing? Geno Smith threw for 238 yards and 3 touchdowns in the convincing 55-10 win over the Falcons. Now think about something… those are impressive numbers for a quarterback. Correction: Those are some pretty impressive numbers for a quarterback that DOES NOT play in Dana Holgerson's offense. However, to the rest of us Mountaineers fans, 238 yards may seem a little weak. Smith threw for 463 yards against arguably the nation's best defense just one week prior, so let's quickly reflect on why Smith "only" had 238 yards.
Ladies and Gentlemen, we have ourselves a run game. Enter Dustin Garrison, the 5-foot-8-inch, 165 pound freshman running back from Pearland, Texas, who wasted no time introducing himself to the Bowling Green Defense and the Mountaineer faithful. Garrison, who wears #29 for WVU this season, carried the ball 32 times for an astounding 291 yards and two touchdowns. This was only Garrison's second start of the season, and he undoubtedly made the most of it.
"Wait, I thought this was a preview, not a recap!" If that's what you are thinking, you are exactly right. Just keep those first two paragraphs in mind and humor me for the rest of the article.
This week we welcome the Connecticut Huskies (2-3 overall, 0-0 BE) into Mountaineer Field at Milan Puskar Stadium for the first Big East game of the season. We can start this discussion with a small comparison of how the two teams match up nationally:
| | | |
| --- | --- | --- |
| Category | West Virginia | Connecticut |
| Passing yards | 6th (362.8 YPG) | 75th (215.2 YPG) |
| Rushing yards | 78th (133.2 YPG) | 84th (127.6 YPG) |
| Points for | 13th (40.4 PPG) | 86th (24.8 PPG) |
| Points against | 46th (22.6 PPG) | 24th (18.4 PPG) |
West Virginia has already shown the nation that it has the talent to do big things, and most of our recent follies seem to have been examined and corrected. The defense, although touted as weak compared to last year under Jeff Casteel, has done an excellent job of holding our opponents to fewer points than our offense can tally. While we could still use a little extra effort on all parts, it would be great to see the line make way for Bruuuuuuuce Irvin to knock Connecticut quarterback Johnny McEntee down a few notches. Senior, Keith Tandy continues to show why he is a phenomenal DB, as he is credited with 27 tackles so far- 24 of those are attributed as solo tackles. Tandy also has 2 interceptions for 29 yards. Sharing the duties is the junior, Terence Garvin, who has shared 33 tackles, has 1 solo sack, 2 interceptions, and 1 touchdown. It's very possible that McEntee's interception numbers could jump considerably against this Jeff Casteel defense.
Connecticut's defense is only allowing 18.4 points per game so far this season, however, Western Michigan ran them through the gauntlet for 479 yards through the air. The only consistent side of Connecticut football may have just joined the rest of the team for a long, inconsistent season. Backups to replace the injured cornerback Blidi Wreh-Wilson, tailback D.J. Shoemate, and left tackle Jimmy Bennet are mainly unproven, and provide a little more inexperience to an already season-shaken defense. Geno Smith should have no problem throwing for 500 yards or more against the Huskies if the run game is nonexistent.
So how about the Mountaineer offense? Is there anything they cannot do? The offensive line, which was a question coming into the season, has opened holes, protected the quarterback in the passing game. The ground team has started to show the patience necessary to wait for holes to develop, and has shown much more North/South movement than East/West. The backs have possibly opened the eyes of our future opponents to see that West Virginia's offense is deep. We don't have to run only Garrison, because we have Vernard Roberts, Trey Johnson, Shawne Alston, Ryan Clarke, and Matt Lindamood (who, in my opinion, deserves a much bigger chance to prove himself on the field) who can step in to fill the shoes, if necessary. And the wide receivers…WOW. Brad Starks (11.8 Yards Per Catch/2 Touchdowns), Tavon Austion (14 YPC/1 TD), Stedman Bailey (16.9 YPC/3 TD), Devon Brown (15.8 YPC/1 TD) Ivan "Sticks" McCartney (11.6 YPC/ 3 TD), Ryan Nehlen (14 YPC/1 TD), and Tight End, Tyler Urban (9.8 YPC/2 TD) all prove that Dana Holgerson is not afraid to spread the wealth and Geno is making great decisions on open receivers.
Connecticut's quarterbacks have amassed barely half the number of touchdowns as our Mountaineers, with 8 for the year, and have already thrown 5 interceptions (WVU currently has 13 TDs and 3 interceptions). The Huskies have already rotated through 3 quarterbacks in five games, leaving no doubt that the inconsistency will still be felt on Saturday. Their rushing offense has struggled to gain 638 yards and 5 touchdowns so far, and the receiving team has caught for 1076 yards together.
Let's be honest: the worrisome part of Mountaineer football is, and has often been, our special teams. Corey Smith has not performed well in his punting duties.
Dana Holgorsen said this week
that Michael Molinari will take over for Smith in the UCONN game.
The return protection has been nearly non-existent thus far. Special teams allowed Marshall and LSU return kicks/punts for TDs and has given up other long returns. Last week, first-year special teams coach, Daron Roberts and Holgorsen have added some of the starters, including Eian Smith and Keith Tandy, to the kickoff coverage teams. That seemed to help last week, we will see if the trend continues this week.
The Mountaineers can win most games through the air, and showed a great run game last week, but for the game on Saturday, the best thing the Mountaineers can do to prove their place in the rankings is to combine those two sides of the ball. If Geno Smith can throw for even 350 yards, and the backs can register another 250-300 yards on the ground, there can be ranked in the top 10 nationally on offense. If the special teams unit can step up to make the tackles or force fumbles, then the Mountaineers could compete with anyone.
Holgerson has been preaching balance all season, and he may have found it. Personally, I've only put one leg into the "run-game" bandwagon, but the other is slowly pushing this lumbering body up for front-row seat to see what the Mountaineers can do in Big East play. Garrison had a fantastic game, and logically should only get better…you know, because he is just a freshman with two starts under his pads. Geno may have already proven himself to be capable of replacing Pat White as the best quarterback to wear the Old Gold and Blue.
Lest we forget the 4
th
side of the ball: our fans. "The Dude" isn't happy with our pathetic showing against last week. After bringing more than 62,000 to the LSU game the previous week, only 46,603 showed up for the matchup against Bowling Green. From his weekly press conference this week,
Holgerson made it very clear
that he may be flat out embarrassed by the weak attendance numbers, regardless of the weather.
"The environment was terrible. It was relatively early. Maybe you didn't respect your opponent. No matter what the excuses were, our players didn't buy into it. But obviously our fan base did, so whatever our expectations are with our players as far as preparing every week and going to the game and playing their best, I highly encourage our students and our support to take the same approach. You only get seven opportunities a year. What's so hard about it? Is it too cold? It wasn't too cold for our players. It wasn't too cold for our coaches or managers or trainers. They were out there. So why did we have 20,000 people less at this one than we did last week?
"The funny part about it, we're all talking two weeks ago about how much difference the crowd's going to make to the LSU people. Well, LSU played well in front of 62,000 of our people and then turned around and went home and played a 1-4 Kentucky team at noon and had 95,000 people there. You want to talk about an elite program, that's one. I don't know about this place."
Holgerson continued to voice his disgust: "All I heard in the offseason—I did go out there and beat the drum down. I talked about how important it is to our athletic department and our players and our coaches to have support. All I heard about was how much this meant to everybody across the state of West Virginia. This was the NFL team in town and we're going to be here to support you. Well, having 40,000 people at a game isn't doing that…We do our best every week to fix what the problems are offensively, defensively and special teams wise. Well, what's everybody across the state of West Virginia, including the student body, doing to fix the fact that our players had to play in front of 40,000 people?"
Hopefully, the fans will take notice and arrive in full force…Gameday/LSU/night game/ Norfolk St., whatever.
According to my handy little ScoreMobile app that I love and cherish so dearly, West Virginia is a 20 point favorite over UConn, with a projected point total of 55. The Mountaineers were a 17.5 point favorite last week, and won by 45 points. It's pretty exciting to imagine the points the Mountaineers can put on the shiny new scoreboard at Milan Puskar Stadium this week against a shaky Connecticut team.
My prediction: WVU 48, UConn 12. With the start of Big East play, there may be only one team that can keep the Mountaineers from going to another BCS bowl… the West Virginia Mountaineers.
Let's go Mountaineers!